Every two weeks, we sit down with community leaders, and ask our listeners to send in their questions.
We want you to join the conversation. Email your questions to News@kbut.org.
Community Matters airs every other Monday at 6pm. Archived episodes are below.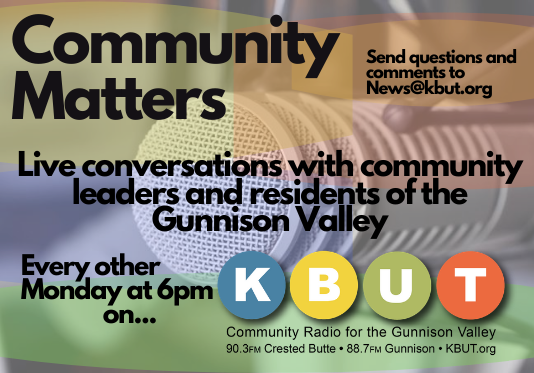 Archived Episodes and Excerpts
This episode of Community Matters on KBUT was broadcast live Monday, November 15 from 6 to 7pm.
Supreme Court approves CO redistricting map.
COVID trends up in Gunnison County.
State enacts new precautions against COVID.
And more…
Imagine turning 18 and finding yourself aged out of the foster care system. You don't have the resources to support yourself and now face homelessness. There's a program in Montrose aimed at helping youth in this situation.
This episode of Community Matters on KBUT was broadcast live Monday, November 1st from 6 to 7pm. Our guests were Isa Reeb, Town Manager for Mt. Crested Butte, and Erica Rasmussen, the newly appointed Executive Director of the Crested Butte Snowsports Foundation.
County Covid case count remains steady, officials emphasize testing
State Supreme Court grants final approval for new Congressional Districts
Mt. CB seeks better enforcement of STR rules
And more…
Troy Russ and Mel Yemma talk about the launch of the Crested Butte Community Compass: Jessica Wurtz and Brie Franklin talk about resources for survivors of domestic and sexual assault, and challenges they face in this work.
Mesa County Clerk allegedly tampered with voting machines; whereabouts unknown
CB South proposed covenant amendments now available for review prior to October vote
Summer mudslides in Glenwood Canyon have reshaped the Colorado River
And more…
Covid cases still rising in Gunnison County
Plan for neighboring National Forests worries local conservationists
CBCS feels the effects of nationwide labor shortage
And more…
New school year, new forest plan, new covenants in CB South, and a new outlook on life after COVID.
Coming up on Community Matters